About 3 years ago my 1939 BSA B26 classic race bike chucked a rod out the front of the engine,well i went looking for another engine but anded up buying a basket case BSA 350 that had a set of 1939 M24 Gold Star forks on it, i removed them an fitted to my B26 racer the rest of the basket looked too good to bust up for parts so for the next 3 years i started working to build a classic trials bike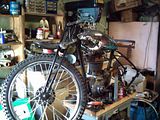 It sat on this small work stand in this state for a few years until i sorted the wheels then this summer i got stuck in to finish it.
So here it is ready for its vin and M O T,after asking all an sundry waat i would need to get a result i found know body who could really tell me exactly waat i needed as i had no papers or rego plate,nothin zilch.
After phoning VINZ for more info they tell me no problem,they can do it on the spot. Well i load it in to the back of my ute an drve the 70 or 80 miles to Hamilton to the testing station only to be told they couldnt do it untill they had the paper work sorted after waiting around for 5 hours so they say leave and we will be in touch when its done, i drive half way back home and my mobile phone rings its VINZ and i have to return to Hamilton to get some forms to get an exemption so i dont need proof of previous rego in NZ .Fill the forms out ,post to LTSA in Wellington ,two weeks go by VINS phone and say i need letter of authenticity from NZ Vintage Car club, a week to get the forms and fill and post to NZVCC,3 weeks to get a reply, a bleedin phone call telling me it will be another 3 weeks from today before they have a meeting to pass the letter of authenticity then post to me then i have to post that to Wellington and i might just get my bike legal for the road, bet there will be another demand for more papers and more dollars.
So here she is in a NZ GOVT lockup
but not for much longer i hope